Refinery
jpn demo/graphics update progress
---
It's been 2 months on the dot since the last update, so here's a new one to let folks know how things are moving along!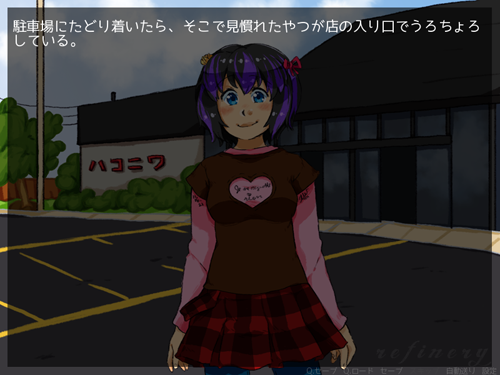 Main story translation is complete AND fully implemented through day 3, i.e. the intended end of the Japanese demo.
Translation quality assurance is complete through day 2.
Daiya's sprite redraws are 100% complete and implemented.

I'm currently working on Shiu's sprite redraws, which are at 11% currently. You can see one of her new sprites implemented in the image above. The new art is lookin' good if I do say so myself.
Mainly, the only work remaining for the Japanese demo is Shiu's new sprites and day 3's QA. Therefore, I would like to tentatively plan Refinery JPN v0.36 and the ENG graphics update for a Q1 (from January to March) release in 2022.
Of course, if it gets done sooner than that, I'll release it sooner than that! My usual QA person is busy with her own gamedev (and day job) and I want her to be able to prioritize those, though, so I don't want to promise anything earlier than Q1 of 2022.